The author decrypts the process of estimating the value of 'museum-quality' paintings and works of art, not to be confused with considerably more prevalent standard quality paintings or works of art.
Article de la Revue Experts n° 91, Août 2010 © Revue Experts
1. THE VALUE OF A 'MUSEUM-QUALITY' WORK OF ART
On 20 May 2010, AFP announced that the theft of five masterpiece paintings, discovered that very morning by the security staff at the Paris Museum of Modern Art, was estimated at 500 million Euros. When I was asked, I considered their worth to be approximately 100 million Euros: AFP rectified its information the next day.
It was sufficient to take into account the lastest, significant, sales of similar paintings from the five artists in question: Picasso, Matisse, Braque, Léger and Modigliani. Depending on the subject-matter, the year and the size, a price emerges from databases found on the Internet, appropriately increased because a work of 'museum quality' always adds value. However, the total of the values did not exceed €101 million, which is more than sufficient money to draw the attention of the media.
In another area, bronze sculptures, a favourite for counterfeits: Walking Man, by Alberto Giacometti (1901-1966) pulverized its high, estimated, value of €21.5 million, reaching a record €74.2 million at Sotheby's in New York on 3 February 2010 (1).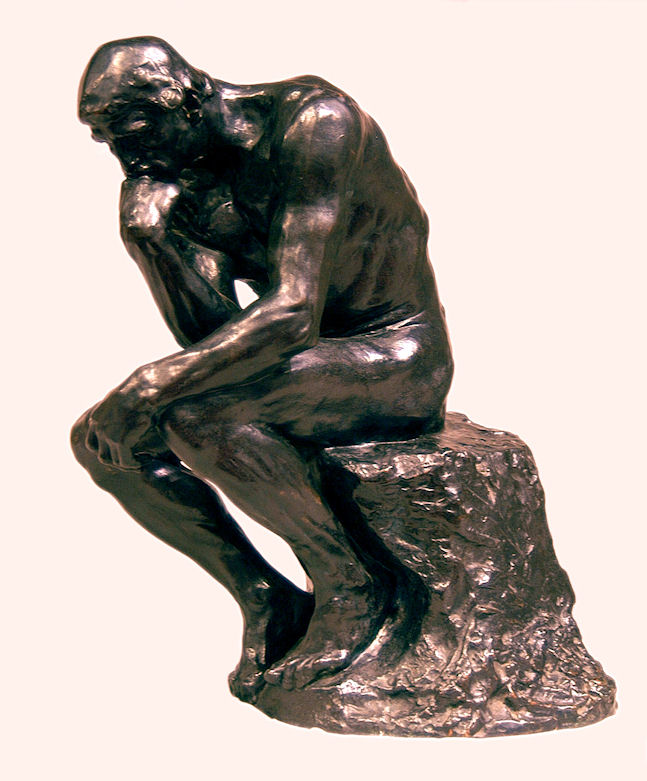 Rodin's The Thinker, an original-sized bronze created for the Gates of Hell, sand cast by Alexis Rudier, circa 1916.
Even more edifying of the sometimes random nature of art prices, on 17 January 2009, a bronze copy of Rodin's Thinker in its original height of 72 cm cast in circa 1916 just before the death of the artist was estimated by our Parisian colleague R. Perazzone at €400,000 but obtained €3.095 million (€2,560 million at auction + costs) at a Hotel Drouot auction. Placed back on sale on 5 May 2010 by Sotheby's in New York, it found a buyer at auction for €8,020,950!… (photo above).
At around the same time, another large-size Thinker in bronze, at approximately 1.80 m, went for a lower price (2) of €500,000 on 8 August 2009 in Cannes. This, however, was a recent copy made in 1998, produced in 25 copies. If the same subject matter in large-size bronze, cast by Rodin when still alive, appeared on the art market, its price would surely exceed €40 million!… (It is, therefore, necessary to obtain advice from extremely competent experts before engaging in such purchases).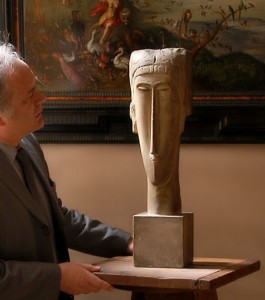 Out of caution and to attract a maximum number of non-professionals, estimations for objects of exceptional quality are often based on auction house prices, thus fanning the auction flame. For example, this superb and extremely rare cubist sculpture, typical of the works of Amedeo Modigliani (in limestone, 62 cm high) (photo opposite) was offered by the Christie's auction house on 14 June 2011 in Paris at an estimated range of €4 to €5 million. Connoisseurs knew immediately that  bids would need to quadruple in order to be successful. After a memorable bidding battle, its 'fair price' fell under the ivory hammer at €38.5 million, ie, €43.2 million including buyer costs. This amount can be explained by the fact that this work is practically unique. Less than 10 sculptures by Modigliani are listed in private collections. And this work has been monitored since its creation. Purchased in 1927 by an amateur of art and subsequently remaining within his family, well illustrated in exhibition catalogues even while the artist was still alive, this work, part of an abundant biography, possesses an irreproachable and reassuring pedigree, which explains its price. A turning point in three-dimensional cubism, the purity of its lines and volumes cannot leave the spectator indifferent, it merits being featured in the most important museums on the planet, hence this world record price.
These various examples illustrate the difficulty in precisely estimating a high quality work of art because the sale prices of these exceptional works, which rarely exceed 5% in quantity of existing and modern works, are unpredictable. In the flood of artistic works, these particular works are estimated on a case-by-case basis in a rational manner according to specific criteria associated with the period, the artist, the discipline, etc.
A closer examination of this process shows that it relies on the following factors:
1. The period in which it was created: Century, regime period, style period, etc.
2. The nature of the object or work: Furniture, painting, decorative object, sculpture, etc.
3. Identification of its creator: Signature, stamp, documents of origin, purchase, etc.
4. The creator's reputation: Internationally known master, lesser known master, anonymous person, etc.
5. Its traceability since being created: Known, unknown, certain, etc.
6. The quality of the production: Classic, exceptional, etc.
7. Its dimensions: Standard, over-sized, etc.
8. Its condition: New, average, restored, substantially restored, worn, etc.
9. The effect of fashion: Engouement très prononcé par une clientèle internationale
ou locale, expositions, publications, films, etc.
10. Its source: Anonymous, prestigious, etc.
11. The subject matter: Attractive, austere, religious, provocative, etc.
12. Its rarity: For a sculpture: unique or multiple, original production or release, created while the artist was still alive or post mortem, etc.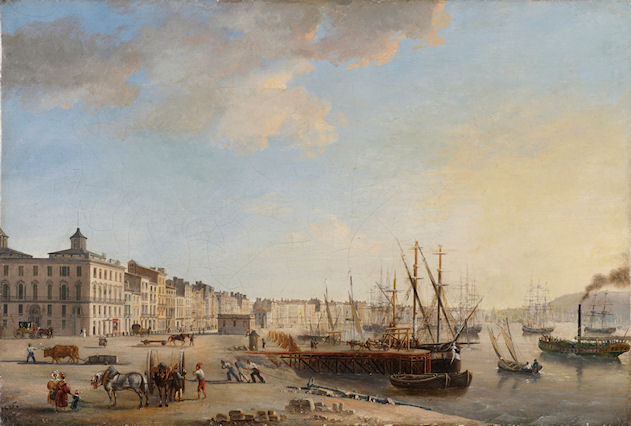 View of the Quai des Chartrons in Bordeaux, from the Esplanade des Quinconces, oil on canvas from the early XIXth century attributed to Jean Paul Alaux (1788-1858), being one of a pair. Dimensions 31.5 cm ht x 46.5 cm not including the frame, sculptured moulding, gold flaking, Louis XVI period. Estimated as being 'attributed to', this pair, as one sale lot, estimated at €16,000 by the court-appointed expert with similar price range in the sale catalogue, sold at auction for €39,000 (€44,598 buyer costs included, court-ordered auction). It can be easily concluded that it was acquired by a person from Bordeaux familiar with boutique prices. Hotel Drouot sale on 10 June 2010, Mr Pescheteau-Badin, court-appointed auctioneer.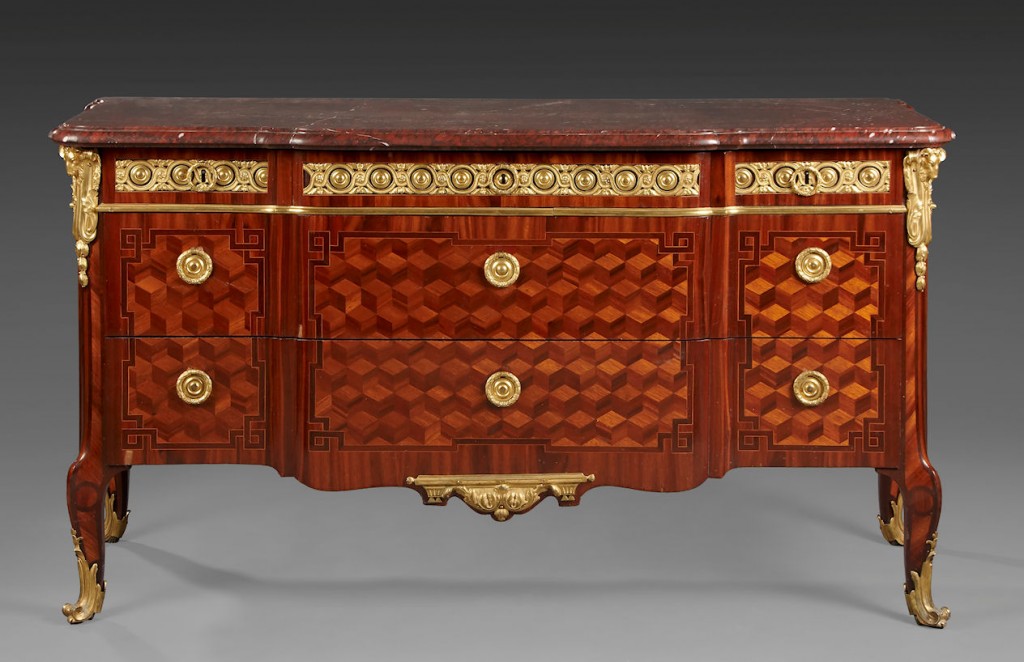 This large Greek commode stamped S. Oeben at the head of each leg under the marble, with double, protruding centre, drawers in rosewood and amaranth, decorated in cubed inlays and Greek decorative strips was assessed by a court-appointed expert at €100,000. Offered at between €60,000 and €80,000 to attract non-professionals, it reached €151,000 at auction (€171,528, buyer costs included, court-ordered sale). This is a chateau model, clearly listed in various books. The amount obtained, with buyer costs in addition, corresponds to the attractive works of the Oeben brothers, Jean-François creating and commencing the cylindrical Louis XV desk in Versailles. Hotel Drouot sale on 10 June 2010, Mr Pescheteau-Badin, court-appointed auctionneer. Expert Mr Armand Godard Desmarest.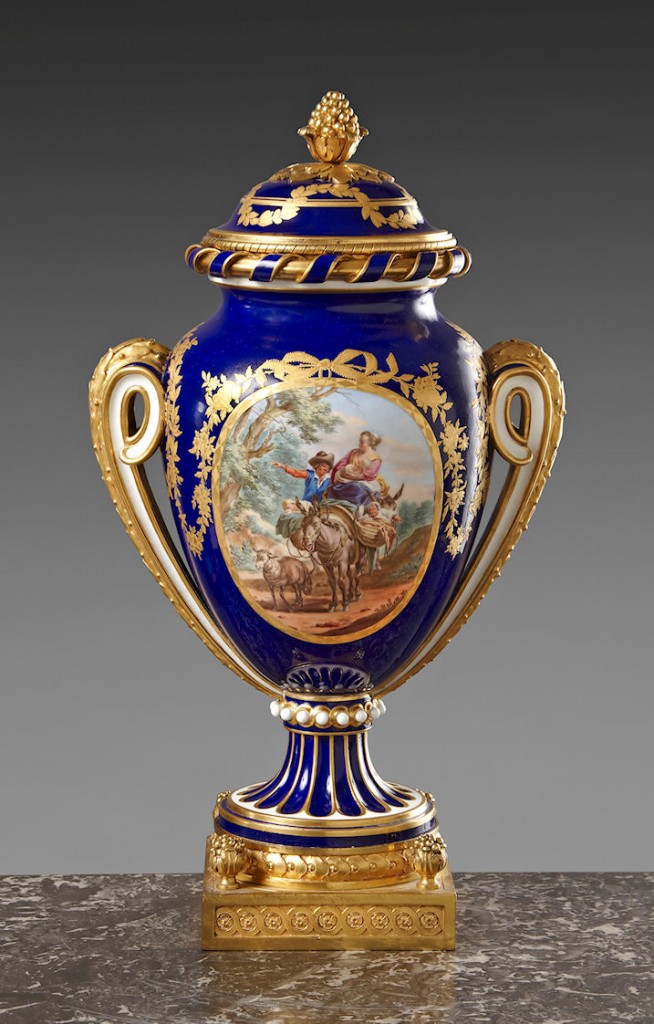 This ribboned vase, produced in Sèvres, circa 1767, in bone china was estimated to be worth a minimum of €30,000 by the court-appointed expert. After having been the subject of extensive research on its pedigree (from the Hotel Lambert in Paris, former collection of the Alphonse barons, then Guy de Rothschild) and having discovered its rarity (only 15 vases of that era in that form are known), it was offered at auction at between €40,000 and €60,000; the hammer fell at the price of €125,000, sold to a dealer!… Hotel Drouot sale on 10 June 2010, Mr Pescheteau-Badin, court-appointed auctioneer, Expert Mrs Nelly Fouchet (€142,940, buyer costs included, court-ordered sale).
Where the quality of production and the condition of the work are exceptional and its traceability is confirmed by a historical autograph, the work interests sharp-eyed collectors at auctions. This very attractive sleeping tiger produced by Georges Guyot (1885-1973) in black pencil with waterpaint colouring, autographed "as a souvenir of the 1937 Exhibition" by the artist, tripled the estimate of €4,000. The hammer fell at the price of €14,000. Hotel Drouot sale on 10 June 2010, Mr Pescheteau-Badin, court-appointed auctioneer (€16,010, buyer costs included, court-ordered sale).
2. THE INTERNET
For the past several years, with only some rare exceptions (certain auction houses refuse to publish the results of their auctions on 'the web' so that their profit margin cannot be calculated by their customers), all auction prices are registered and can be consulted in specialized databases. As consultation is not free, they remain reserved for professionals in the art world. From the sale of such standard objects and furniture and from paintings listed in their thousands can be drawn a reasonably reliable average price. Obviously, the intricacies of each category of object should be known. As a general rule, the greater the details are rare and of good quality, the higher the price of the object. Conversely, its banality reduces its price.
3. AUCTION PRICES
Il y a encore à peine 30 ans, le montant d'une commode achetée en salle à Versailles n'était
pas publié. Aussi, lorsque le marchand présentait le meuble dans sa boutique à Paris, il estimait librement sa marge, selon la valeur qu'il attribuait à ce meuble, souvent après l'avoir fait restaurer. Sa marge brute dépendait ensuite de son engouement à présenter et à vanter les qualités de sa découverte par rapport aux meubles similaires présentés par ses concurrents. La cote, longtemps établie par les marchands d'art, changea de rênes, et à l'aube du XXIe siècle, devint l'apanage des ventes aux enchères. Mais si le prix de vente du marchand, après quelque fois d'âpres négociations, correspond au prix d'achat du client, celui de la salle mérite d'être clarifié. Lorsque le marteau du commissaire priseur tombe par exemple à 10 000 euros, il convient pour l'acheteur de régler cette somme augmentée des « frais acheteurs », qui varient selon les études de 15 à 29,9 %. Le vendeur devra aussi supporter des « frais vendeurs », variant de 5 à 20 % selon l'étude. Lors d'une vente sur ordonnance judiciaire, les frais sont limités à 14,35 % pour l'acheteur et 5 % pour le vendeur (3). Donc si la commode est réglée 12 500 euros par l'acheteur, le vendeur peut n'en percevoir que 8 500 euros selon l'étude. Il convient d'ajouter les frais de publicité, de catalogue, etc… à charge du vendeur. Or, sachant que plus de la moitié des lots vendus en salle sont acquis par des marchands, et si cela est le cas de notre commode, il convient d'ajouter la marge brut du marchand pour connaître sa valeur de vente finale. Elle est en moyenne de 50 à 100 %, ce qui dans ce cas optimum porte notre commode à 25 000 euros « en boutique ». Pour ce montant, il ne peut s'agir que d'un meuble marqueté portant une estampille, sinon elle ne trouvera pas preneur.
4. EXPERTS AND VALUATIONS
On reading the above, the novice understands that valuing a work of art or painting is not as simple as it appears. Where a court requires a valuation, it is important that it or the expert it appoints determine whether a sale price, an auction price or a dealer price is required. To calculate a replacement value after being damaged, the appropriate price is the commercial sale price because the rarer the object, the harder it is to obtain at auction, hence a higher repurchase price. For valuations following damage, insurance experts usually deduct its age and wear. But, in the particular case of collectible antique furniture or modern furniture such as that from the 1930s or 1950s, it is its condition that takes priority over its age. It is agreed, for example, for furniture from the 1930s that some wear and tear and paint chipping is a natural aspect of the object's surface.
In the wording of a contract for replacement value, the price chosen for the commode is the dealer price because the injured party must be compensated within a short space of time without waiting for the same commode to be presented at auction two or three years later … on the other side of France!
5. THE INCREASE IN VALUE ADDED BY THE DEALER
The increased value added to the work of art by the dealer is not negligible and must be taken into account. It arises from the maintenance and renovation work undertaken to make the object presentable and from the historical research carried out by the dealer. The object is immediately available, it can even, in most cases, be presented in situ in the case of furniture or paintings before being bought. The dealer's full liability also justifies the amount of his margin: in the event of an error in the substantive quality of the item being sold or the discovery that it is a counterfeit, he alone will be liable.
6. THE INCREASE IN VALUE ADDED BY THE AUCTIONNEER
When prestigious sales take place, announced with substantial advertising on the Internet and in specialized magazines such as the Hotel Drouot's Gazette, the Journal des Arts, etc, the auctioneer creates an important event, in particular by sending out catalogues. To its clientele and that of its experts should be added amateurs in art, informed by the advertising referred to above. The reserve prices announced are always attractive, as reasonable prices attract a maximum number of bidders. The bids rise quickly when two collectors are after the same object, they stagnate when art professionals dampen the amateurs' passion, releasing rumours about the quality of the objects and not overbidding each other. The hammer having fallen on one of them, the auction will continue between a small group in the neighbouring café: this is the 'reappraisal', prohibited but still practised. Where disputes arise after a public auction, the auctioneer, under attack from an unhappy buyer, calls in the guarantee by the sale expert and the seller in order to diminish his liability.
CONCLUSION
If the value of paintings or works of art produced in large numbers is relatively easy to estimate, that of exceptional works or objects can only be assessed within a reasonable range. Increased bidding at auction due to an increase in adrenalin and the fear of not obtaining the desired object or the arguments of an experienced dealer sometimes push prices so high that they are entirely unpredictable and fantasist. Be careful, because in the event of being required to immediately resell the object, the difference risks being difficult to absorb. As a general rule, an object purchased at auction at a reasonable price must be kept from a minimum of five years before being presented for sale because it is known in the art world. But the ideal is to benefit from it and wait at least 10 years in order to be certain that the outlay is recovered, including interest, and even, in addition, a profit made. Since the beginning of the year, the prices of quality works are significantly higher. The  imminent opening of large museums overseas and the stock market crisis confirm quality international art as a safe investment.
NOTES
1.A counterfeit from Germany where a stock of more than 1,200 Alberto counterfeits and fifty Diego counterfeits were seized by the Stuttgart police (which we can publish only in ten years or so) reached a record sale price in the USA of US $27 million in 2009!…
2.Object not raising any bid, not sold.
3.In addition to the advertising, transport, custodian and insurance costs payable by the seller should be added the value added tax for each object worth more than €5,000. The seller may be exempted from paying of this tax if he purchased the object more than 12 years ago but he must provide written proof with assistance from an official document: auction receipt, purchase invoice, insurance contract, solicitor's or auctionneer's inventory …)